Centers for Medicare & Medicaid Services (CMS)
Strategic Partners Acquisition Readiness Contract (SPARC)
The Strategic Partners Acquisition Readiness Contract (SPARC) is a multiple award, Indefinite Delivery/Indefinite Quantity (MA-IDIQ), performance-based contract. It is available to CMS components and HHS Operating Divisions to procure strategic, technical, and program management guidance and support services, to facilitate the modernization of CMS business processes and supporting systems. These systems will include the Federal Healthcare Exchange and Medicare/Medicaid information technology systems. Any teaming partners for work under this contract are added on a Task Order basis. There is no fee to use this contract.
Services available through SPARC:
Initiation, concept, and planning services
Requirements services
Design services
Development services
Testing services
Security control assessment (SCA) services
Independent verification and validation (IV&V) services
Maintenance services
Support services
Data request services
Help desk services
Type of Task Orders (TO):
CPFF, CPAF, CPI, FFP, FFPAF, FPI, T&M, LH
TO competition is required.
Min/Max over Contract Life:
Min: $1,000 | Max: $25 Billion
Duration:
Base Ordering Performance Period: February 21, 2017 to February 20, 2022
Optional Ordering Performance Period: February 21, 2022 to February 20, 2027
Federal Agencies Served:
CMS and other Departments of Health and Human Services Operating Divisions (HHS OPDIVs)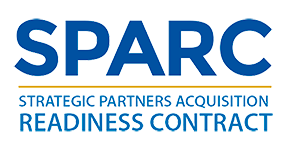 Contract #:
HHSM-500-2017-00020I
For questions, contact:
Nitin Gupta
Chief Operating Officer
240-778-2524
niting@digitalinfuzion.com
Kristy Spivey Harrison
Director of Contracts
301-948-4871 ext.2511
kristyh@digitalinfuzion.com
Contract Website:
CMS SPARC