Chief Information Officer-Solutions and Partners 3 (CIO-SP3)
Governmentwide Acquisition Contract (GWAC)
The National Institutes of Health (NIH), National Information Technology Acquisitions and Assessment Center (NITAAC) provides a contract vehicle for acquiring a wide range of IT products, services and solutions for the NIH Institutes and Centers and all other federal agencies. The focus is to provide government agencies with a mechanism to quickly order needed IT solutions and services at equitable and reasonable prices. The CIO-SP3 GWAC is designed to support the Federal Enterprise Architecture, the Federal Health Architecture and the DoD Enterprise Architecture, providing a full range of information technology services and solutions to the federal government.
The Digital Infuzion-led Contractor Team Arrangement (CTA), CIO Source™, consists of Digital Infuzion, Armedia, and Carson Associates. Digital Infuzion, Inc. as the Prime was selected as the contractor authorized to compete for task orders in the CIO-SP3 Small Business category.
Task Areas:
Task Area 1 – IT Services for Biomedical Research, Health Sciences, and Healthcare
Task Area 2 – Chief Information Officer (CIO) Support
Task Area 3 – Imaging
Task Area 4 – Outsourcing
Task Area 5 – IT Operations and Maintenance
Task Area 6 – Integration Services
Task Area 7 – Critical Infrastructure Protection and Information Assurance
Task Area 8 – Digital Government
Task Area 9 – Enterprise Resource Planning
Task Area 10 – Software Development
Duration:
2012 – 2023
Federal Agencies Served:
This contract applies to all federal agencies.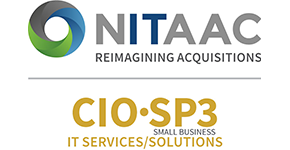 Contract #:
HHSN316201200128W
Program Manager:
John Beresny, SVP Business Development
240-778-2540
johnb@digitalinfuzion.com
Contract Website:
NITAAC CIO-SP3 Small Business