General Services Administration (GSA) Multiple Award Schedule (previously IT Schedule 70)
The multiple award schedule is an IDIQ contract providing the full range of IT services, including Cloud services, database planning and design, network services, systems analysis and design and installation for all federal departments and agencies.
Services Available:
Digital Infuzion offers IT, Healthcare IT, and Cloud-related IT professional services.
Software engineering
Clinical informatics
Bioinformatics
Observational outcomes
Grants management solutions
Health research
Health data interoperability
Cloud services
Mobile health
Health surveillance
Big data
Machine learning
Deep learning
Business intelligence dashboards
Data coordinating centers
Type of Task Orders (TO):
FFP, T&M
Program Ceiling:
N/A
Category:
Information Technology
Awarded Special Item Numbers (SINs):
SIN 518210C – Cloud or Cloud IT Related Professional Services (previously 132 40)
SIN 54151S – Information Technology (IT) Professional Services (previously 132 51)
SIN 54151HEAL – Health Information Technology Professional Services (previously 132 56)
SIN Order – Level Materials (OLMs)
How to Order:
Federal, state, tribal, and other eligible entities may purchase services through eBuy and GSA Advantage!, or by issuing an RFI or RFQ and allowing vendors to respond to your requirements. More information about buying from the Multiple Award Schedule can be found here.
Duration:
Contract expires in July 2024.
Federal Agencies Served:
This contract applies to all federal agencies.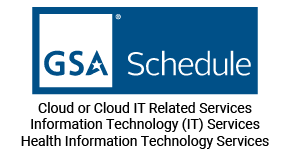 Contract #:
47QTCA19D00FW
For questions, contact:
John Beresny, SVP Business Development
240-778-2540
johnb@digitalinfuzion.com
Contract Website:
GSA Advantage!